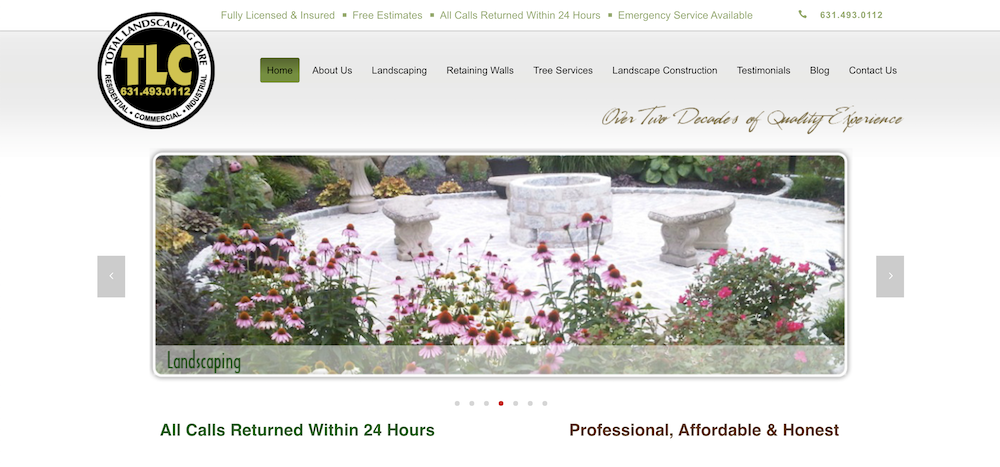 Total Landscaping Care (TLC) prides themselves in being Long Island's premier landscape, tree and excavating company. The team at TLC provides high quality, cost effective services that will beautify your home and increase property value.
With over two decades of experience our problem solving techniques have helped a number of clients all over Long Island. Our crew accurately analyzes your property, customizes a plan that fits your wants and needs & executes the project from our concept to the completion. Our goal is to revitalize neglected properties giving them life once again. We supply only the finest quality of products to our clients on the market ensure maximum customer satisfaction.
Total Landscaping Care (TLC) Launches A New Website!
In keeping up with staying ahead of all curves we have decided to rebuild our current website. For this scope Total Landscaping Care (TLC) hired Long Island web design agency, Benjamin Marc.
"When Troy called me to be a part of the rebuild of their current website I was very happy. I've seen Total Landscaping Care (TLC) trucks on the roads for years. They are a well established company known for their tree services, landscaping, retaining walls and other phases of construction. TLC was very clear and precise for the end goal for the website. They wanted online visitors to be able to see photos of each service provided and get an in-depth education on them as well. Our team got right to work splitting all Total Landscaping Care (TLC) services into separate web pages. Each page showcases the beautiful work as well as a step by step process to each project. The website came out great and it is extremely user friendly. Since the launch website tracking softwares show and increase in online visitors and time spent one the website". Comments Anthony Savino of Benjamin Marc
Please feel free to browse through the website and let us know your thoughts.